Monday, June 29, 2009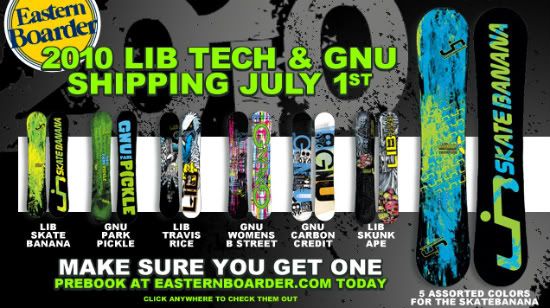 The 2010
Lib Tech
and
Gnu Snowboards
are Shipping out July 1st. This is the earliest we've ever had boards ready for you go take home and go ride. And if you are part of the lucky ones that has snow in the mountains or are going to summer camp, you my friend will be riding one of these earlier than 99.9% of the snowboarders on the planet.
In this first batch we have something for everyone, the Lib Tech Skatebana was 2008 & 2009's breakthrough board. The
Carbon Credit
give you banana under $400. Check them all out
here at the 2010 snowboard page
.
Posted by

Eastern Boarder Worcester.
at 9:24 AM
0 comments

Sunday, June 28, 2009
Heres a video from last year. Peep it!
GET STOKED!!!!!!!!!!!!!!!!!!!!!!!!!!!!!!!!!!!!!!!!!!!!!!!!!!!!!!!!!!!!!!!!!!!!!!!!!!
Eastern Boarder Customer Appreciation Day from Adam Metterville on Vimeo.
Posted by

Eastern Boarder Worcester.
at 1:04 PM
0 comments